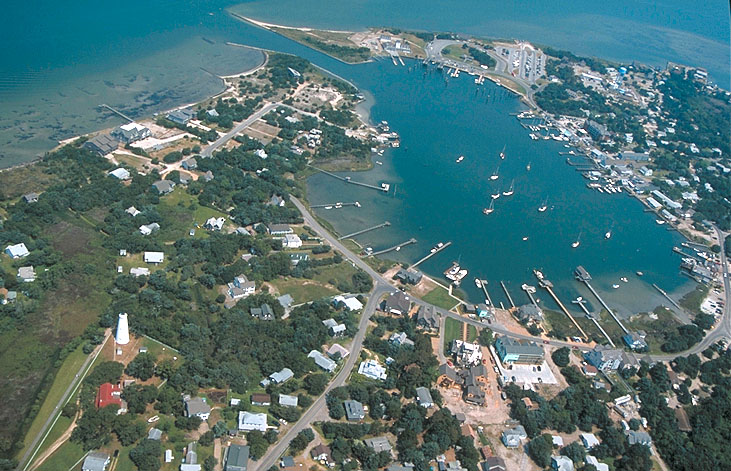 Image of Ocracoke harbor
Courtesy Bill Britten, photographer
First getting there is no small feat. There are no roads that link the island to the mainland. The island is reachable by air or sea, though most will opt for the latter. We took the 45 minute ferry ride from Hatteras. Time already starts to slow down on the ferry; there is nothing to do but gaze over the horizon or feed the seagulls. Kids just love this part of the trip!

Once we landed on the island, ~15 miles of unspoiled undeveloped beaches. No wonder it's been voted 2nd or 3rd best beach in the USA! (Ocracoke beach photos). The beach is owned by the National Park Service, virtually (we hope) guaranteeing its beauty for future generations. At the end of the island lies Ocracoke Village, with its picturesque harbor (Ocracoke harbor photos).

We stayed at the Ocracoke Island Inn (Ocracoke lodging), the oldest inn on the island. It's located off the main road right next to the harbor. Well, actually we stayed in their comfy spacious new 2BR villa units. The villa was as big as our house, 1500+ sq ft! The inn has a couple of things going for it if you are looking for accomodations:

The location is great. It's 50 feet from the harbor, the heart of Ocracoke village. It's convenient to restaurants, bike rental shops, ice cream, and the best place on earth to have coffee, Ocracoke Coffee Shop. Just ask anyone, they'll know where it is.
Since the beach is a few miles away, it's great to have a pool, especially with smaller children.

The inn has a restaurant with decent food and reasonable prices (Ocracoke restaurants). Very convenient if, like me, you're not quite awake before noon and would like to start off the day with food in your stomach. Though of course, the allure of the Ocracoke Coffee Shop is sufficient to overcome my zombie-like state on most mornings.
Ocracoke time dictates that you just park and forget about your car during your stay. We rented bikes and lazily strolled around the village and the island. We didn't know where we were going but it didn't really matter (Ocracoke island photos).

Ocracoke will seduce you if you give it a chance. We know we will be back!

Photos of ferry

Ocracoke beach

Ocracoke lodging

Ocracoke Harbor

Photos of Ocracoke Island